Missed the Lands and Resources Department's takeover of Winds of Change Wellness Almanac's Instagram postings last week? Here's a second chance to check out what happened.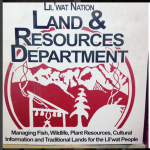 From September 26 – 30, the Lands and Resources Department took over the Wellness Almanac's Instagram account to highlight both its people and the work they do. For Lands and Resources Director Harriet VanWart the experience was a great one:
"I was really excited when Lisa Richardson invited the Líl̓wat Land and Resources Department to do a one-week take over of the Wellness Almanac's Instragram account. It is easy sometimes to just keep your head down and plug away at the day-to-day. The Instagram take over was a nice opportunity (and nudge) to take some time out to share what our department is all about. Not enough people recognize or appreciate how involved Líl̓wat is in managing its Territory," says Harriet. "There is a broad scope of work that the Líl̓wat Land and Resources Department takes on. We engage in projects, consultations, negotiations and governing decisions throughout Líl̓wat Territory – all 800,000 hectares. This can feel daunting, but looking back the Land and Resources Department has accomplished a lot since it was created in 2003."
Meet the women and men who make up the Lands and Resources Department team:

From left to right: Harriet VanWart, Lex Joseph, Carrie Lester, Bobbi-Jo Leo, Johnny Jones, Maxine Bruce and Casey Gabriel with the selfie skills. (Fish techs are already in the field — you'll see them later!)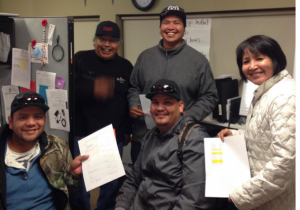 Here's our fish crew, back from the field and tasked with filling in data sheets. From left to right Slade, Dan, AJ, Wade and Maxine.

Bobbi-Jo Leo is the Land and Resources Office Coordinator. She keeps us all on track and organized.

This is Carrie Lester, our Referral Coordinator. She deals with all the consultation letters we receive from governments and companies proposing new land use activities within Líl̓wat Territory. Líl̓wat Territory is almost 800,000 hectares and we deal with about 100 new referrals each year. Some referrals take years to resolve.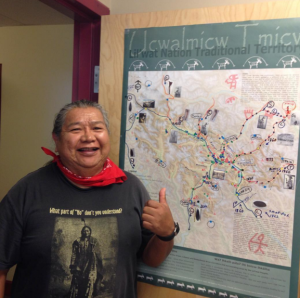 Johnny Jones, Cultural Technician, has a wealth of knowledge about Líl̓wat Territory. We rely on Johnny for archaeology and traditional use information and field work.
Lex Joseph, Cultural Technician, does research on Lil'wat cultural uses and values throughout Líl̓wat Territory. He keeps our library of information well organized too!
What are some of the things that Lands and Resources Department does?
"We have a Land Use Plan for the whole Líl̓wat Territory. We run our own traditional land holding system to register lands on-reserve. We have a Consultation Policy that guides our engagement with governments and other organizations on consultations about land use throughout Líl̓wat Territory," says Harriet. "We have completed a number of Impact Benefit Agreements that bring revenue to the Nation, as well as specific measures of protections for the land and cultural sites. We have secured agreements with the Province for the protection of numerous areas in the Territory, including sacred places such as Mk̓walts (Ure Creek). We have also cultivated seasonal employment opportunities for Líl̓wat people to be fisheries technicians and environmental monitors — getting Líl̓wat people out on the land, and being stewards of their territory."

Johnny Jones and students from Xet̓ólacw School today standing by pictographs (rock paintings) at Mkwal̓ts (Ure Creek). Johnny and Lex often do field trips with students to share their knowledge about the territory.

Lands and Resources meets with the Land Referral Committee each month to receive direction on how to respond land use referrals. At this meeting, we reviewed 15 new referrals for proposed forestry cut blocks, gravel removal, and a geothermal project.

Lands and Resources has worked over the years with the Sea to Sky Trail Committee. A great outcome of this is seeing the Ucwalmicwts name used for the S2S trail through Líl̓wat Territory. Kaxwisxala means "smile of relief" and was traditionally used to describe the trail bringing people north towards Whistler. It described the look on people's face as they reached the summit!
"The Land and Resources Department is an amazing place to work. We have a great team of staff and we all take a lot of pride in the work we do."

— Harriet VanWart
Director of Lands and Resources
To review the entire week of Wellness Almanac postings, please click www.instagram.com/thewellnessalmanac/