Thursday, October 27, 2016,  was the first time in  history that a Líl̓wat Nation General Assembly was broadcast live streamed on YouTube. So, if you couldn't make it to the GA last night you can check out what happened by clicking here. 
Below are two documents that were released at the GA, the annual report for 2016, Kaxílhtuma:Achievement, and the Lands and Resources Department's Action Plan 2016. To view, click on the cover images.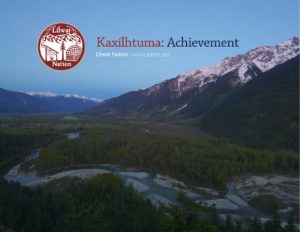 The annual report details the activities of the Líl̓wat Nation, its Chief and Council and its staff. The annual report also details the Nation̓s finances.
With Action Plan 2016,  the Lands and Resources Department has outlined its plans and strategies to ensure "maximum control over Líl̓wat Traditional Territory." This document outlines how the department works to support the Nation̓s Strategic Plan 2016-23 through the works of Fisheries, On-Reserve Lands, and Off-Reserve Consultation departments.
Skalúlmecw Cheif Dean Nelson chaired the General Assembly. Skalúlmecw presented on Inherent Rights with Táya Chief Leonard Andrew and special guest Satsan Herb George from the University of Winnipeg who is a Wet'suwet'en Hereditary Chief of the Frog Clan. Satsan has been a long-time Speaker for the Wet̓suwet̓en Nation. and previously served as Speaker for both the Gitxsan Nation. He was also Adjunct Associate Professor in the School of Public Administration of Aboriginal Governments Program.
Staff and councillors reported out on the activities of the following departments::
Finance and Audit
Recreation
Lands and Resources
Ts̓zil Learning Centre
Xet̓ólacw Community School
Community Services
Health and Healing
Infrastructure, Capital Projects and Housing
Líl̓wat Business Corporations