Dr. Lorna Williams added another honour to her impressive resume Friday, October 7, 2016.
Last Friday, community members, including representatives from Chiefs and Council, attended Simon Fraser University to celebrate Dr. Lorna Williams being recognized for her work in aboriginal education, and language and culture reclamation. For those who were unable to attend the ceremony at Budd Hall, we are pleased to share the following photos: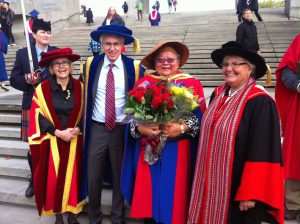 Say it with flowers: Dr. Lorna Williams holds a congratulatory bouquet as she poses with SFU leaders after being recognized last week as one of 12 men and women who has made outstanding contribution sin their fields. Dr. Williams, who holds a Doctorate of Education has been a driving force in the reclamation of the Líl̓wat Ucwalmícwts.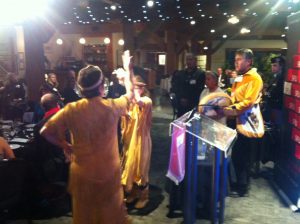 What's a celebration without saq̓úta? Chief Skalúlmecw Dean Nelson, Councillor Mámaya7 Lois Joseph and Emahoelen Erin Nelson join in honouring Dr. Lorna Williams and the other recipients of the honorary degrees presented on October 7, 2016.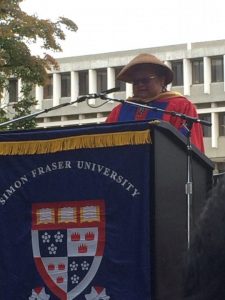 A portrait of tradition and innovation: Dr. Lorna Williams addresses the assembly at SFU wearing a beautiful traditional Lil̓wat7úl cedar hat woven by Melvin Williams.
Congratulations!