Gloria Wallace has won the First Nations Educations Steering Committees 2017 Community Education Leadership Award and has been recognize as a First Nations Language Champion.
Laverne Paul nominated Gloria for her vast contributions to the reclamation and preservation of Ucwalmícwts. We are proud to share the FNESC announcement and Gloria's prayer, Líl̓wat Lámcal, which Líl̓wat Nation featured in its 2015 annual report.
First Nations Language Champion
Community Education Leadership Award 2017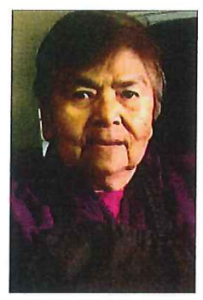 Sekya7 Gloria Wallace
Sekya7 is fluent in her traditional language of Ucwalmícwts. She started out as a teaching assistant and is now a teacher at the Xet̓ólacw Community School. She has taught Ucwalmícwts to elementary, high school and immersion students. Having completed her Bachelor of General Studies in Education, Gloria studied linguistics through Simon Fraser University and continues to share her knowledge of cultural traditions within the community. In addition to teaching for the past 43 years, she has taught night classes within the community on her own time. Gloria's dedication to her community has been shown through her work serving on Band Council and providing information on cultural protocols where she speaks Ucwalmícwts to all. A significant contribution has been her creation of a Líl̓wat prayer that the school uses on a daily basis as well as creating curriculum materials to be used for future language teachers.
Líl̓wat Lámcal
O ku cá7a kúkwpi7
Kúkwstum̓ckacw ti tmícwa, ti qú7a,
múta I tákma was7ts̓áqwan̓em,
kúkwstum̓ckacw ti áma sq̓it,
kúkwstum̓ckacw tákem I tsmál̓tlhkalha
múta I tákem I ucwalmícwa
Áma ts̓i̓lhas aye
Mount Currie Prayer
Oh Great Creator
Thank you for the land, the water,
And all the food we eat
Thank you for the good day,
Thank you for the children
And all  our people.
Amen.
— Sékya7 Gloria Wallace
First Nations Language Champion
Ucwalmícwts Teacher at Xet̓ólacw Community School