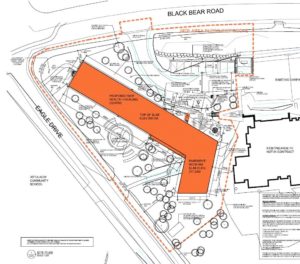 Health and Healing Development
Tree Falling and Site Clearing to begin next Tuesday, October 30th
Starting next Tuesday, October 30th,  work begins on clearing the site for the new Health and Healing building, to be located across the street from the school next the existing health building (see site plan).
 It begins with selectively cutting down of trees using heavy equipment. This work will be performed over two days followed by several days of grubbing and sorting of the trees. The trees will be felled towards the middle of the construction zone, however, flaggers and safety personnel may stop pedestrian and vehicle traffic on Eagle and Black Roads for periods of time while falling is taking place. Falling will not start until 9 am and end by 2:30 pm, in order to avoid disruption with the school busses. If in the area please be cautious of this activity and keep any children away for safety reasons.
Please note: The pedestrian pathway between the Health Centre and the School will be permanently shut during construction.
For any inquiries please call Úl̓lus office, ask for Tom, Department of Infrastructure.