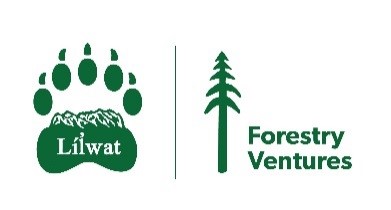 Position:              Forestry Summer Student
Status:                  Seasonal (4 Positions) (July-August)
Reporting to:     Forestry Senior Field Supervisor/ Forestry Supervisor
Salary:                   $13-$15/ Hour (35-40 Hrs/week) 
Líl̓wat Forestry Ventures LP
 Líl̓wat Forestry Ventures LP (LFVLP) is a First Nations owned Forest Licensee operating in Mount Currie B.C. LFVLP is a very diverse company, managing and maintaining many areas of the Squamish Forest District. The variety of forest, environmental and land management professionals within our company provide exclusive opportunities to learn and grow. LFVLP are Safe Certified, and we have registered crews with the Wildfire Management Branched based in Mount Currie, ready to fight fires.
Forestry Summer Students
LFVLP are seeking motivated students who will be returning to school in September and are interested in Forestry. Students will work alongside our forestry crews in a variety of positions gaining experience in many forestry practices. We hope with provided exposure and encouragement individuals will pursue Forestry as a career in the future.
Possibilities:
Working alongside our field supervisors and senior crews, summer students can work in a variety of areas such as:
• Tree Planting
• Chainsaw & Brush Saw Operating
• Fuel Management
• Fire fighting
Responsibilities:
• Follow instruction and safe work procedures
• Be accountable and flexible
• Remain respectful and safe
Preferred Qualifications:
• Physically fit
• Great attitude
• Driver's License an asset but not required.
• First Aid Level 1 an asset but not required.
• Above the age of 16
Our Promise:
• Provide experiences
• Provide safe work procedures
• Provide training prior to operating any tools
• The right candidates will be eligible for advanced training ex. First Aid
If you are interested in being a part of our success, please submit your cover letter, resume and two (2) references to:
Líl̓wat Forestry Ventures LP
Attention: Marcus Scherer, Forest Tech
PO Box 605, Mount Currie, BC V0N 2K0
Phone: (604) 894-6115
Fax: (604) 894-1518
Email: marcus.scherer@lilwat.ca
All applications must be received prior to 4:30PM on MAY 29th 2020