An update about the Nlháxten /Cerise Creek Conservancy from Lands and Resources:
On Thursday, July 20, we had a large contingent of Líl̓wat community members and staff, as well as BC Parks staff,  hike the access trail to the Nlháxten /Cerise Creek Conservancy. We were fortunate to have Elders Jeannie Wells and Susan Wells attend and share their knowledge about the many plants found along the trail. Johnny Jones captured the spirit day with his photo of  Elder Jeannie Wells sharing her knowledge of the area with the group̣̣ (Johnny also shot this post's feature image)̣̣: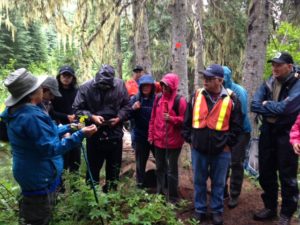 In August we will be following up with a stakeholder meeting to learn about public use and interests in the Conservancy. Then in September there will be another site visit.
If you would like to attend the September site visit with us, or have any questions or input about the Nlháxten /Cerise Creek Conservancy Management Plan, please contact the Líl̓wat Land and Resources Department at 604-894-6115, Lands.Administration@lilwat.ca , or Liz Scroggins at scrogginsliz@gmail.com
To learn more about how Líl̓wat Nation and BC Parks will be working over the next year to develop the Nlháxten/Cerise Conservancy Management Planc have a look at the links below, and please fill out the  Feedback Form below. Your input is a valuable and necessary to ensure this is a great project.
Review the Map of Nlháxtem/Cerise Conservancy Map 
Fill out a project Feedback Form