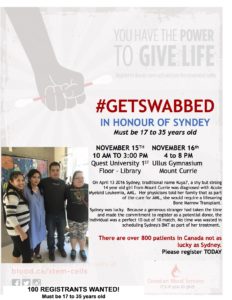 You have the potential to save a life in 10 minutes. It's quick, painless and you can do it Wednesday, November 16. How awesome is that?
Honour Sydney Bikadi and her battle against acute myeloid leukemia (AML) by registering to become a stem cell donor this Wednesday. All it takes is answering a few simple health questions  and a cheek swab.
Greg Bikadi and Bernadine Sampson's 14-year-old daughter was able to cope with very high does of chemotherapy because of stem cell therapy (STC). And it was possible because someone chose to join One Match, the Canadian Blood Services' stem cell donor registry.
As part of the Líl̓wat Nation Health Fair, on Wednesday, November 16 Canadian Blood Services will be onsite at Úll̓us 4 pm to 8 pm registering healthy 17- to 35-year-olds for its OneMatch stem cell donor program. Sign-up for Sydney and show your appreciation for this vital therapy.