Congratulations to the staff and students whose work resulted in XCS winning 1st Place at Global Competition for #YouthLed Projects: Flood & Drought Special.
Here are the happy teachers and students and teachers who participated in the award-winning High School Super Course: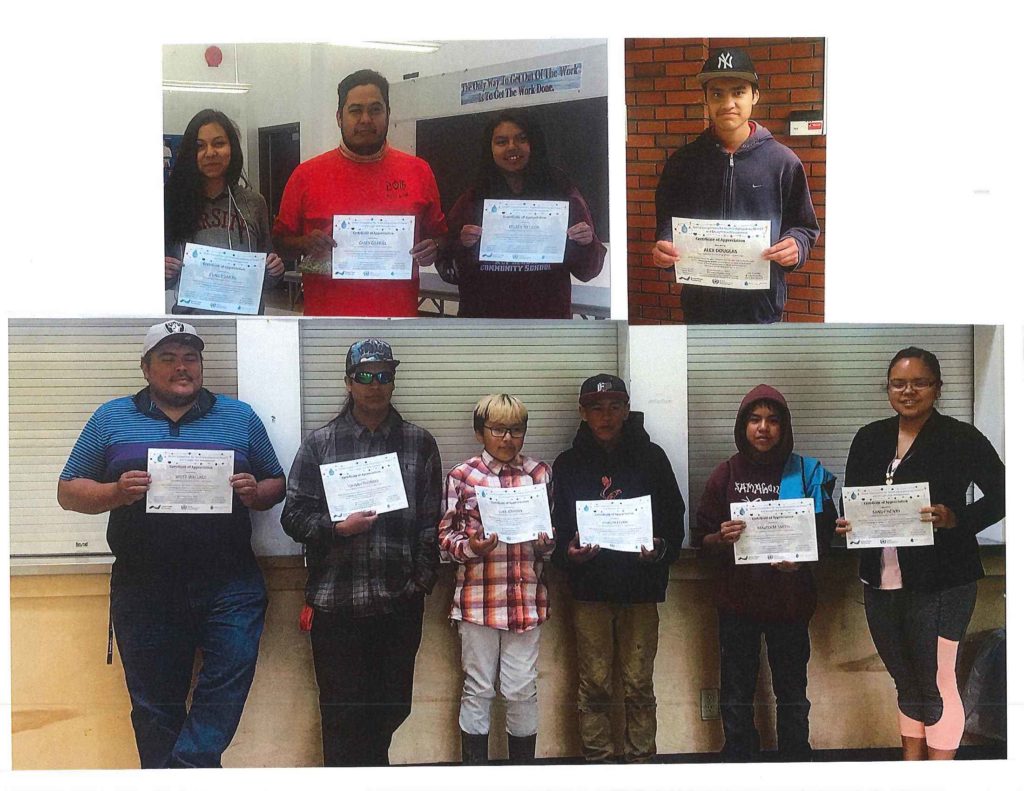 Top line of photos: Eunice Smith, Casey Gabriel and Kelsey Nelson
Bottom line of photos: Brett Wallace,  Johnny Thomas, Luke Johnny, Dakota Flynn, Malcolm Smith and Sandy Henry
A Xet̓óclacw Community School's (XCS) High School Super Course has won the Global Competition for #YouthLed Projects: Flood & Drought Special. The award was announced at the first session United Nation's Global Platform for Disaster Risk Reduction held in Geneva, Switzerland in June 5 – 7.
At the session, ten XCS students, from Grade 8 to 12, and three staff, were recognized for their first place winning, "Flood and Drought Risk Management" project. The award-winning course was delivered in March, 2017 by by Casey Gabriel, Sandy Henry and Brett Wallace. (XCS super courses are one- to two-week intensives designed to give the student an immersive experience resulting in a deeper understanding of the subject.) The students, by grade, that participated in the award-wining project are:
Grade 8
Grade 8/9
Eunice Smith
Malcolm Smith
Julz Anthony
Grade 10
Grade 11
Grade 12
The competition is sponsored by Global Water Partnership, World Meteorological Organization and the Water Youth Network. Its goal it to engage young people in the design and implementation of policies, plans and standards in Disaster Risk Reduction. The Youth Forum at the Budapest Water Summit 2016 further showed that young people are unified across disciplines and scales to understand, innovate and adapt to the complex and dynamic nature of the global water system and climate change.
Representatives from Indigenous and Northern Affairs Canada (INAC) further recognized the work behind XCS's first place project:
"The Emergency Management Direcetcorate is proud to work with such great partners such as Xet̓ólacw Community School, winners of the Youth-led projects on "Flood and Drought Risk Management" at United Nation's Global Platform for Disaster Risk Reduction.
— Todd Kuiack, Director of INAC Emergency Management Directorate

"Hope all is well and in good health and spirits. I am sending many, many thanks to the youth for their hard work during the super-course, a work that will continue with the curriculum development. I will be in touch about the logistics and planning for that work. Thank you so much to the entire community for your leadership!
— Lily Yumagulova. Program Supervisor

"Congratulations on a great project and winning you award! The keys to all good Emergency Management are Cooperation, Collaboration, and Commitment, and through this project you achieved all three. It is exciting to see how Indigenous Youth can, and will get involved in Emergency Preparedness and show what they could do when given a chance. Your communities are right to be proud, and now have and energetic and knowledgeable resources at their fingertips. Congratulations and keep up the great work!"
— David A. Diabo, Non-Structural Mitigation, Emergency Preparedness Manager
Program Advisory Council
Again, congratulations to the talented students and staff whose hard work and dedication has been recognized internationally!